"Feel What's Possible" with the Philippines' Premier Lifestyle Event and Trade Show Manila FAME in October 2023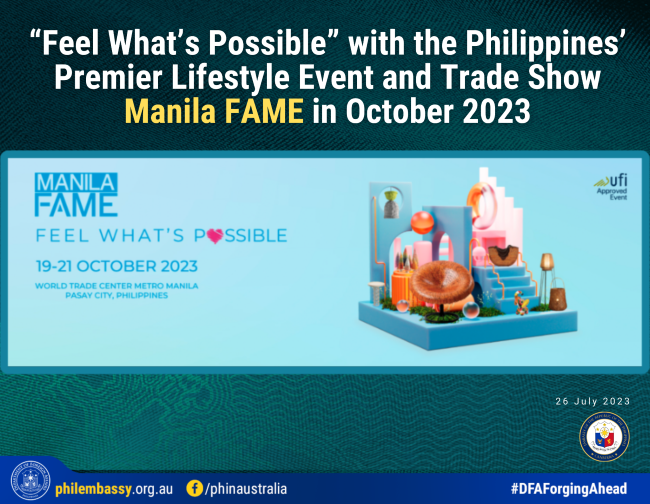 26 July 2023, MANILA - A trade show full of endless possibilities! Discover Philippine- made products and sources from seasoned and up-and-coming exhibitors at Manila FAME, the second-longest running trade show in Asia and the Philippines' premier trade show for home, fashion, and lifestyle sectors, is returning to the trade show floor for its 71st edition at the World Trade Center Metro Manila in Pasay City on 19-21 October 2023.
The highly anticipated international sourcing event supports and showcases Philippine Micro, Small, and Medium Enterprises (MSMEs), seasoned and emerging designers, and local artisan communities in the Philippines.
With the theme, "Feel What's Possible," the 2023 edition of Manila FAME will highlight the Filipino "pasadya" (custom-made) culture, giving the spotlight to the skillful craftsmen and artisans who manipulate materials, mostly with their hands, with craft precision to achieve endless possibilities and cater to the sourcing requirements of every trade buyer.
For this year, Manila FAME is set to showcase more than 250 exhibitors offering a wide range of products including furniture, home decor, lamps and lighting, fashion, festive and seasonal decor, gifts, and beauty and wellness from various artisanal communities in the Philippines.
Manila FAME's digital counterpart, the Center for International Trade Expositions and Missions (CITEM) is also slated to mount a multisensory experience for exhibitors, buyers, and visitors from all over the world by integrating a solid "online-offline-online" experience to give participants a seamless customer journey between the physical show and its digital platform.
Through fameplus.com, the digital sourcing platform of FAME, local and international trade buyers can discover upcoming and established brands, read feature stories, and connect with local artisans and manufacturers all year round.
Importers, distributors, wholesalers, retailers or specifiers for the contract market are invited to attend as a Manila FAME Trade Buyer. Register at https://fameplus.com/registration/buyer-registration and find out more about the event and how to participate as a Very Important Buyer (VIB) with perks and privileges such as free hotel accommodation and dedicated buyer services to qualified buyers.
About FAME
FAME is a community of brands, designers, and manufacturers that showcase quality artisanal products in signature trade show Manila FAME, on digital platform FAME+, and in trade fairs and B2B initiatives around the world. The FAME community likewise includes global buyers and other stakeholders.
About FAME+
FAME+ is the ultimate digital sourcing and storytelling platform for Philippine quality home, fashion, and lifestyle products. It enables Philippine brands and manufacturers to generate leads and reach global buyers through content creation, learning opportunities, and B2B capabilities. It intends to ensure and improve the discoverability of exhibitors online, creating a community of exhibitors, buyers, and stakeholders in one digital space.
For more information, you may contact: https://www.facebook.com/ManilaFAMEofficial
Exhibitors - exhibitorservices@citem.com.ph
Trade Buyers - manilafamebuyers@citem.com.ph
Sponsors - busdev@citem.com.ph
Media Relations - ccd@citem.com.ph