PH and South Australia Highlight Opportunities for Economic Growth in Business Roundtable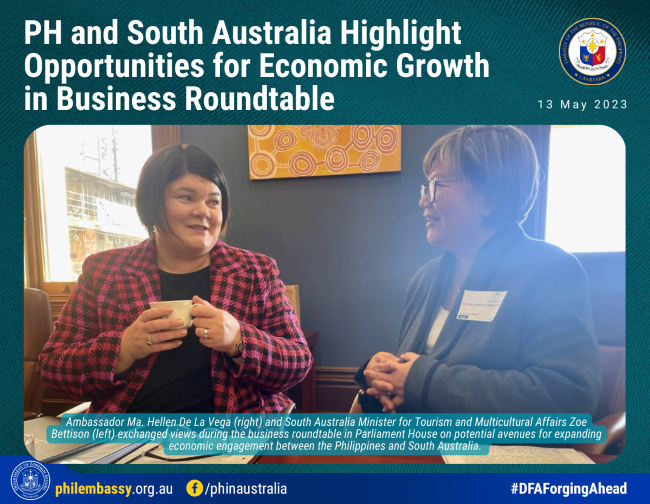 12 May 2023, ADELAIDE – Philippine Ambassador to Australia H.E. Ma. Hellen B. De La Vega engaged key business sectors in South Australia in a Business Roundtable hosted by SA Tourism and Multicultural Affairs Minister Zoe Bettison in Parliament House on 11 May 2023. The event was organized in partnership with the Philippine Honorary Consulate in Adelaide led by Consul Carmen Garcia. It aimed to explore opportunities for advancing economic cooperation between the Philippines and South Australia (SA).
Ambassador De La Vega discussed the economic growth of and favorable business environment in the Philippines with the country positioning itself as a regional hub for manufacturing; innovation, research and development; investment and a center of training and education. The country posted 6.4 percent GDP growth for the first quarter of 2023 which is beyond median estimates of analysts and despite inflation pressures. Among the countries that have released first quarter data, the Philippines grew the fastest.
According to the Ambassador, the Philippines is in the top 10 source countries for international students in the State, citing as an example the sustained and proactive partnership of the University of Adelaide with institutions in the Philippines since 2017.
Philippine Special Trade Representative Alma Argayoso presented opportunities for SA business including Philippine trade and investment priorities, digital transformation initiatives and developments in exploring hydrogen renewable energy in the country.
Minister Bettison highlighted that the Philippines has become South Australia's fourth largest export market, with more than 21,000 Filipinos residing in the state. She recalled her participation in the business mission to Subic, Clark, Manila and Bataan led by Ambassador De La Vega in 2022, noting that her main takeaway was the friendliness of the Filipino community and their eagerness to collaborate.
"The Philippine economy is one of the most dynamic in the world", Minister Bettison emphasized.
Ambassador De La Vega underscored the importance of maintaining strong and meaningful partnerships as the Philippines and Australia celebrate 77 years of enduring diplomatic relations in May 2023 and further encouraged business representatives in SA to seize opportunities in the Philippines. -- END