Filipino community in Canberra commemorate Philippine Independence and Rizal birth Anniversary at the PH Embassy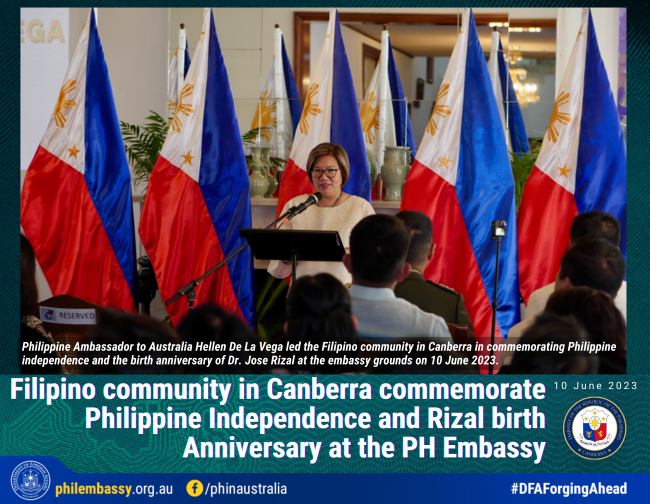 Philippine Ambassador to Australia Ma. Hellen B. De La Vega led the Filipino community in Canberra in commemorating the 125th anniversary of the declaration of the independence of the Philippines and the 162nd birth anniversary of national hero Dr. Jose Rizal.
A flag-raising ceremony was held at the embassy grounds led by Philippine Military Academy cadets currently studying in Australia. This was followed by laying of wreaths and flowers at the bust of Jose Rizal in honor of the national hero's birth anniversary on 19 June.
In the program held at the Official Residence of the Ambassador, the messages of the Ambassador, Secretary of Foreign Affairs Enrique Manalo, Secretary of National Defense Gilberto Teodoro Jr. and Secretary for Migrant Workers Maria Susana Ople were delivered. A video presentation on the official theme song of the multi-year commemoration of Philippine independence from 2023 to 2026 called "Samot-Saring Iisa" was played during the event.
The celebration featured Filipino brunch arroz caldo (classic rice porridge with chiken), tokwa't tokwa (fried tofu salad with fresh vegetables and soy-vinegar dressing) and tablea cupcake (chocolate cupcake with whipped tablea chocolate ganache) with kapeng barako and calamansi tea by Canberra-based Lolo and Lola.
https://drive.google.com/file/d/1e4cNb_y3rVFwKT-YkKt4WEJiN7AIjZYz/view