Trade and Tourism Minister Don Farrell keynotes PH Independence Day Commemoration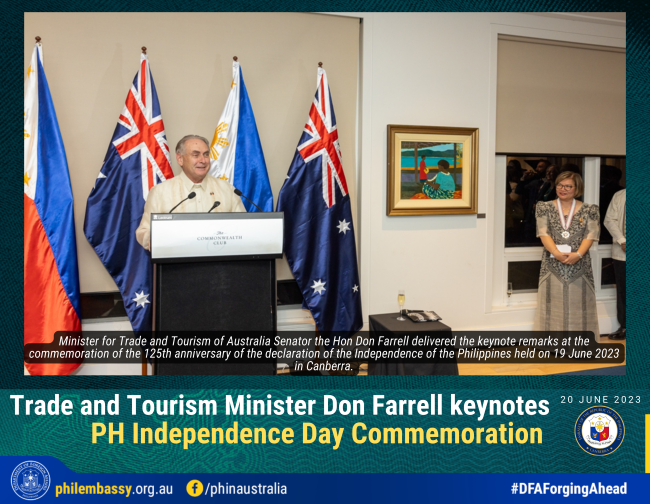 Special Minister of State and Minister for Trade and Tourism Senator the Hon Don Farrell delivered the keynote remarks at the reception hosted by Philippine Ambassador to Australia Ma. Hellen De La Vega to commemorate the 125th anniversary of the declaration of the independence of the Philippines on 19 June at the Commonwealth Club in Canberra.
Minister Farrell spoke of the deep bonds of friendship of the Philippines and Australia and the significant contribution of the over 400,00 Filipinos in this country. He talked about his travel to the Philippines in April 2023 to advance trade and investment opportunities and the potential for further tourism between the two countries.
The Hon Luke Gosling OAM, Federal Member for Solomon and Chair of the Australia Philippines Parliamentary Group, also delivered remarks and spoke of the shared history of the Philippines and Australia in the second world war. He said that the partnership of the two countries continues to strengthen in particular defense cooperation noting the recent meetings of the Defense Ministers.
In her remarks, Ambassador De La Vega said in the midst of challenges, "…the Filipino people demonstrated remarkable resilience, fully-committed to the strength of our democratic institutions and the humanity of global governance and order."
Members of Parliament and government officials attended the reception as well as representatives from the diplomatic corps, international organizations and the think tank community. Filipino violinist Mr. Andreo Esguerra and pianist Mr. Matthew Dennett performed Kalesa by National Artist for Music and Literature Levi Celerio and 1970's classic Bato sa Buhangin. The guests were treated to flavors from the Philippines including lechon (whole roast pig), lechon kawali slider, kinilaw na tanigue (fish ceviche), lumpia (pork and spring roll), camaron rebosado (deep fried prawn in batter) and pancit sotanghon (sauteed glass noodle) and San Miguel beer.